December 14, 2020
VITAMIN D
DEFICIENCY
AND COVID-19
Dear Friends,
Recent research shows a correlation between Vitamin D deficiency and Covid-19 infection. In fact, over 80 percent of 200 COVID-19 patients in a hospital in Spain have vitamin D deficiency, according to a new study published in the Endocrine Society's Journal of Clinical Endocrinology & Metabolism. Does this mean that deficiency in Vitamin D is the only thing making you vulnerable to Covid-19 infection? No. But, it's worth noting the correlation between a deficiency and infection.
We know that Vitamin D deficiency is linked to an increased risk in cardiovascular disease, bone pain, muscle weakness, cognitive impairment in older adults, asthma in children, and more. Research suggests that vitamin D could also play a role in the prevention and treatment of a number of different conditions, including type1 and type 2 diabetes, hypertension, glucose intolerance, and multiple sclerosis. Many studies point to the beneficial effect of vitamin D on the immune system, especially regarding protection against infections. Therefore, we know that Vitamin D is essential to our health. The link between Vitamin D deficiency and covid-19 cannot be ignored.
There is even new research looking at the ways vitamin d deficiency can increase the severity of covid019:
Vitamin D deficiency is associated with an increase in thrombotic episodes, which are frequently observed in COVID-19. Vitamin D deficiency has been found to occur more frequently in patients with obesity and diabetes. These conditions are reported to carry a higher mortality in COVID-19. If vitamin D does in fact reduce the severity of COVID-19 in regard to pneumonia/ARDS, inflammation, inflammatory cytokines and thrombosis, it is our opinion that supplements would offer a relatively easy option to decrease the impact of the pandemic. (2)
We are still waiting for more research on Covid-19 to say with any certainty that one treatment is better than the next. However, knowing what we already know about the risks of vitamin D deficiency, I do suggest that everybody have their vitamin D levels tested and begin vitamin d supplementation immediately. 
At RevitalIV, we offer Vitamin D booster injections that are an excellent way to support your immune system during cold and flu season. We also offer Vitamin D3/K2 liposomal supplements.
Please call us at: 561-406-2202 to order today.
In health and hydration,
Dr. Matteo Rosselli, D.O.
References:
1. Meltzer DO, Best TJ, Zhang H, Vokes T, Arora V, Solway J. Association of Vitamin D Status and Other Clinical Characteristics With COVID-19 Test Results. JAMA Netw Open. 2020;3(9):e2019722. doi:10.1001/jamanetworkopen.2020.19722
2. Weir EK, Thenappan T, Bhargava M, Chen Y. Does vitamin D deficiency increase the severity of COVID-19?. Clin Med (Lond). 2020;20(4):e107-e108. doi:10.7861/clinmed.2020-0301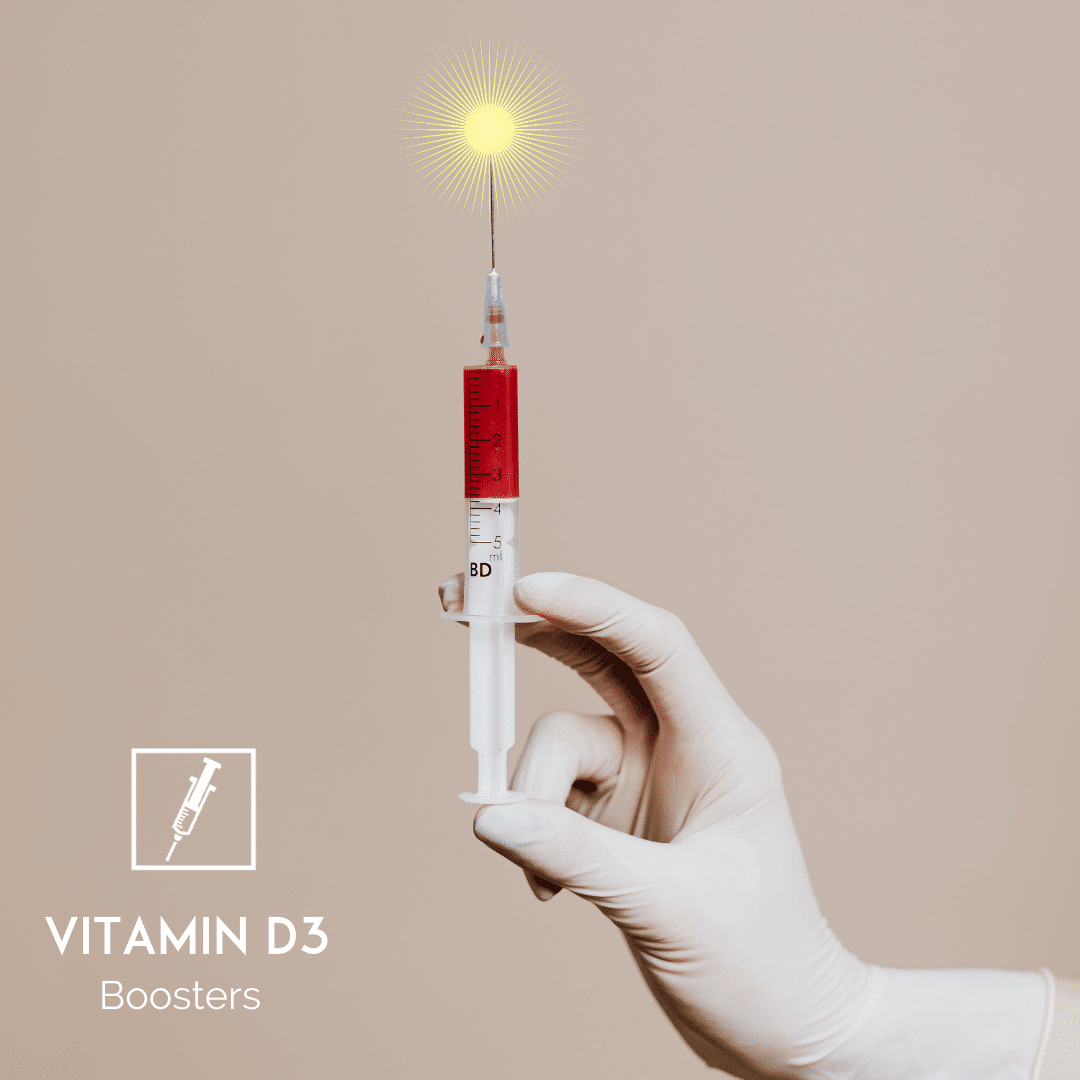 D3 BOOSTERS
ONLINE PRICE ONLY:  5 for $99
Vitamin D deficiency is a common condition that affects up to 25-50% of Americans. Vitamin D is found in cells throughout the body and is needed for maintenance of strong bones, immune system function, neuromuscular function, improving mood regulation, protecting the brain against toxic chemicals, and potentially reducing pain.
If your Vitamin D levels are low, we recommend an initial high-dose intramuscular injection followed by a second injection 3 months later. A third injection may be required in another 3-6 months. Some patients may then require 1-2 injections per year to maintain sufficient Vitamin D levels.
Regular price: $25/each
* These products/services are not intended to diagnose, treat, cure, or prevent any disease.